PRESTO! PRO™ for cars!                                                                The Original Wipe-On Clearcoat™ 
LINKS TO: 
PURCHASE 2 oz. of PRESTO! PRO™ (Enough for 2 medium sized cars) OR PURCHASE 4 oz. of PRESTO! PRO™ (Enough for 4 medium sized cars)

Video Demonstrations of PRESTO!™ For Cars:
WHAT IS THIS PRODUCT?     PRESTO! PRO™ was originally developed for GM, Ford and Chrysler as a 100% solids coating. 100% solids is a trade term that means this product contains no solvents, no water, no alcohol or anything else that can evaporate to pollute the atmosphere or doesn't become part of the solid paint film. Eliminating the solvents eliminates all the diseases (from cancer to liver damage), the fire hazard and over 1 billion metric tons of air pollution caused by these paints. PRESTO!™ easily surpassed and still surpasses ALL automotive performance specifications for car paints with none of the hazards of those paints.
As a result, this is the most advanced, highest performing, longest lasting and environmentally, friendly wipe on product available anywhere. Additionally, PRESTO!™ provides the most comprehensive chemical, physical and UV protection on the market and is the ONLY product of this type that has had any of its claims verified by any independent testing laboratory.
As plastic surfaces weather, additives in the plastic or paint are washed out which create microscopic pores. As a result, the surface looks white or faded to our eyes. PRESTO!™ penetrates, fills & seals these pores restoring surface color & fighting future damage.
Unlike other products, PRESTO!™ is so durable it lasts for years – not weeks, nor can you wash it away – ever. PRESTO!™will not wash away like wax, silicone or oil based products. PRESTO!™ penetrates and integrates into the surface so effectively, as little as one coat can restore the showroom-like appearance of your vehicle and will never flake off.
PRESTO!™ was developed & tested over 15 years before the first bottle was ever sold. Other car care products use the same old, conventional chemicals which is why they pretty much all do the same thing and last the same. We pioneered the use of new and unique, higher performing chemistry, using raw material never used for this purpose before, or since by any manufacturer anywhere. This is why NO other product can outlast or out perform PRESTO!™.
WHAT RESULTS CAN I EXPECT? The way the surface looks like when it's wet is what this product will make the surface look permanently.
PRESTO! PRO™ IS USED TO: 
PRESTO!™ is The Original Wipe-On Clear Coat™ – Formulated as an OEM Grade Automotive Paint
Designed for use on automotive paints and plastic (Do NOT Use on Rubber)
Revive/recondition faded automotive clear coat
Revive/recondition powder coated parts
Recondition and protect automotive cladding
Revive/recondition Carbon fiber hoods, parts and panels (may require 2+ appliactions)
Revive/recondition faded automotive plastic trim, bumpers, running boards
Seal, stabilize and protect exposed color coat due to missing automotive clear coat
Fill and Seal Minor Scratches & Scuffs onAutomotive Clear Coats
Eliminate those "spider web" scratches from car washes with one simple wipe-on coat
Impart scratch and scuff resistance up to 3 to 4 times greater than normal clear paints
Protect Against:   ♦Acid Rain         ♦Bird Droppings         ♦Insect Damage          ♦Fuels          ♦Solvents            ♦UV Damage           ♦Conc. Hydrochloric Acid           ♦Conc. Nitric Acid           ♦Conc. Sulfuric Acid           
LINKS TO: 
PURCHASE 2 oz. of PRESTO! PRO™ (Enough for 2 medium sized cars)
OR 
PURCHASE 4 oz. of PRESTO! PRO™ (Enough for 4 medium sized cars)
Cure time:     As fast as 1 hour in full sunlight at 80F. Overcast conditions and colder temperatures extend cure time.
Temperature:     Apply at temperatures above 55F just because it takes longer to self-level at cooler temperatures.
Coverage:     100 Sq. Ft. per US. Fl. Oz. GENERALLY (99% of the time) one coat is enough. Typically, a 2US. Fl. Oz. Bottle will cover up to TWO small to medium sized cars – bumper to bumper. Apply this product before 10 am, this gives you the prime UV cure time of the day for curing. 10:30 – 3pm is prime sunburn time of the day because that's when UV levels are the highest. Do NOT apply the night before as this product will be completely absorbed into the surface.
How To Apply This Product:     This product goes on the same way other wipe on products are applied, only you don't need protective gloves. Use a CHEAP paper towel to apply. Expensive paper towels absorb and keep the product in the paper towel where it doesn't do you any good. NEVER pour or apply the product directly onto the target surface because it will harden too fast on you!If you do get into trouble, call customer support for help.
Typically, it should take a few seconds to do a square foot of area. Apply until the area looks uniform and even. If the surface looks "splotchy" the surface absorbed most of the product and needs more product to look uniform. Applying too much, the surface looks "greasy" and will cause cure to take longer. Redistribute product over the surface until it looks uniform.
After application, lightly brush your fingers over the surface. If your fingers look, wet then there's too much               product on the surface. Simply spread out the product or wipe off the excess. Lightly wipe away any streaks caused by your fingers.
DO NOT rub hard because paper towels can scratch the surface if too much pressure is applied. As the product starts to harden the towel, wrap a new towel around the old paper towel. Dispose of used paper towels as non-hazardous solid waste as needed.
Don't remove the foil seal, just puncture it with a pencil or pen tip. This keeps hardened product from falling into the bottle when you use it. This also avoids accidentally losing all of the product if the bottle gets knocked over and keeps the UV from getting into the bottle and solidifying the contents!
Surface Prep:      For best coverage and highest gloss results, oxidation should be compounded off by using a wax-free compound. The higher the surface gloss is before application, the higher the final, permanent gloss will be.
If You Need Help:     Customer service is always available to help you out. Give the PRESTO!™retailer where you purchased our product for help. See our "contact us" page for all current contact information.
---
LINKS TO: 
PURCHASE 2 oz. of PRESTO! PRO™ (For 2 medium sized cars)
OR 
PURCHASE 4 oz. of PRESTO! PRO™ (For 4 medium sized cars)
---
TESTIMONIALS

DATE: Fri, 30 Nov 2018 
FROM: Joni Ross <sugarbabXXXXX@icloud.com>
I found this product about ten years ago when I was searching for an alternative to getting my car painted which was going to be expensive. The clear coat was cloudy and flaking in areas on my corvette otherwise the color was still intact. Also I was partial to keeping the car as original as possible so I had nothing to lose at this point and gave it a try. I was pleasantly surprised at the outcome. This is hands down the best and most durable product to use when used correctly as the sun is the secret to your success. The sun will harden the layer of clear to your paint. Other products are just a dressing or one time use for a car show that typically washes off after a couple of good scrubs. Patience and practice is the key. Many cars from the 1980s suffer from clear flaking as base / clear paint was in its experimental stage and lacks durable longevity. Thank you for this product.
My time capsule 1984 corvette
---
"You have no idea how I dreaded at least 1 time if not 2 times a year that I had to buff out that one side of the trailer. NO MORE do I have to do that thanks to PRESTO!™ PRO! I just came in from doing the panel in the pic. This time I got the 4oz bottle. I'm doing all kinds of things with this stuff now."  
-Donnie
---
Dear presto,
I told you as soon as we had a warm day that I would apply the product and give you the results. I first tried it out on my 2000 Maxima which had a number of scratches to get the hang of how to use it. It is super. I then used it on the new Grand Marquis some inconsiderate person keyed the hood. This stuff works like magic, does not take much but you have to work it fast and I am slow because I have advanced osteoarthritus along with other medical issues. I have never seen any product do what this product can accomplish when applied correctly and it would be hard to do it wrong. Very simple approach to fixing a big problem. Thank you so very much from a customer in Alabama.                -green8581
---
"I used PRESTO!™ on my Mercedes S430. What used to be a huge scratch on the hood near the Benz emblem is now barely noticeable. ...it saved me a couple of hundred dollars to have the scratch removed!"                           -Daniel P., Esq., Puerto Rico
---
"PRESTO!™ improves customer satisfaction. It works beautifully and does everything it claims it does. Simply put: it works!"
-Rich Kordish, Manager, Great Northern Dodge,Cleveland, OH
---
"I've been in business over 30 years detailing & reconditioning Autos. We now remove scratches with PRESTO!™, which has expanded the work I can do. PRESTO!™ works to eliminate all marks so an auto is like new again. PRESTO!™ Performs to give new life and makes our autos look great without costing a lot!"      
-Kojak's Reconditioning, Boston, MA
---
General information on car paint:
Electron Microscope Images of typical car scratches and scuffs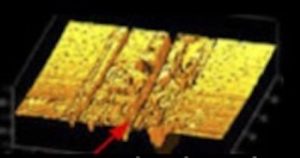 Electron Microscope image of a scratch in a car's clear coat. Red arrows show main groove damage. © 2004-2018 ProTech Polymer Products, Ltd.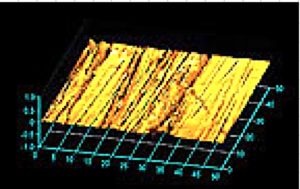 Electron Microscope image of a scuff in a car's clear coat. © 2004-2018 ProTech Polymer Products, Ltd.
---
The layers of car paint.
CAR BODY:Metal or composite (plastic, fiberglass or other non-metal material).
E-Coat:Anticorrosion coating applied to metal (usually steel) body components.
PRIMER:Used to create an optically uniform base for the color coat.
COLOR COAT:Provides a thin (1-2 mils, dry) thick layer of color which is the primary color of the vehicle. This layer provides color only and has little if any physical or chemical protection.
CLEAR COAT: The thickest of all the coatings (applied 2-4 mils, dry), this layer provides essentially ALL chemical and physical protection for the layers below and is the reason it is over 2-3 times as thick as any other layer.
NOTE: This PRESTO!™ is a high gloss and colorless clear and cannot replace or repair missing or damaged color.
LINKS TO:
PURCHASE 2 oz. of PRESTO! PRO™ (For 2 medium sized cars)
OR 
PURCHASE 4 oz. of PRESTO! PRO™ (For 4 medium sized cars)

LINKS TO OUR:
LINKS TO OTHER PAGES ON THIS SITE: